Honolulu Biennial Expands to Neighbor Islands with New Program
September 13, 2017, 2:45pm HST - Pacific Business News

The Honolulu Biennial, an inaugural art event that took place between March 8 and May 8, is spreading to Neighbor Islands due to demand, and according to organizers.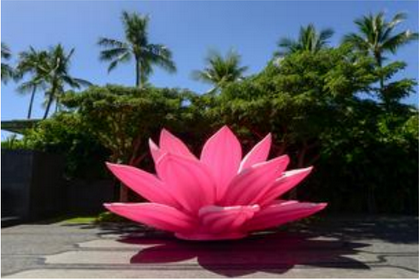 COURTESY CHOI JEONG HWA AND THE HONOLULU BIENNIAL
FOUNDATION
Choi Jeong Hwa's "Breathing Flower" at the IBM
Building at Ward Village during the 2017 Honolulu
Biennial.
Isabella Hughes, co-founder and director of the Honolulu Biennial Foundation, said the program will bring select artworks from the 2017 event to Kauai on Sept. 21 and then to Maui on Nov. 21.
The program will serve as a pilot to gauge the amount of demand, and whether or not to make the next biennial-to take place in 2019-a multi-island event.
"We have done programs in the past on neighbor islands, but now, with the launch of Island Hopping, we are affirming our commitment to the Neighbor Island communities - not only with the launch of Island Hopping as part of our ongoing annual programs, but also as we look ahead to the 2019 and 2021 iterations of the Biennial," Hughes said.
The program will launch at Galerie 103, located in Kukuiula Village Shopping Center. Gallery Director Bruna Stude said the launch "is an important step to ensure Kauai and other Neighbor Islands are served and continuously part of the conversation when we think about Hawaii's contemporary art scene."
I think Honolulu Biennial has changed everything for Hawaii," Stude added. "It has made us all feel that what we are doing here in these islands is vitally connected and relevant to the contemporary artistic community beyond our shores and created a highly visible platform for our artists, as well as introduced us to new practices from around the Pacific."
The second program will take place at the Maui Arts and Cultural Center.
The $2.7 million art and culture event brought nearly 100,000 visitors and over 30 local and international artists to Honolulu. It also featured nine different exhibition spaces, including the 60,000 square-foot former Sports Authority building, renamed The Hub for the event.
The Howard Hughes Corp. (NYSE: HHC) was the main sponsor, while other partners included the Hawaii Tourism Authority, the Bank of Hawaii Foundation and The Surfjack Hotel and Swim Club.
Katie Murar
Reporter
Pacific Business News